[quote="Yzz"]Hiya.
I've made a lot of microheroes, sometimes just because I "see" a certain image in my head. These guys have very little else beyond names and simple powersets. Feel free to expand on anything to make these guys better-suited to be Open Source characters!
The Enigma
Concept: The crazy hero
Personality: Quirky, like the JLU version of The Question
Abilities: Photographic memory.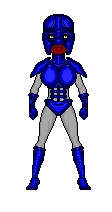 Ultima
Concept: Cosmic-level villain
Personality: I was thinking that she turned evil as part of temper tantrum. That's all I really have.
Abilities: Ability to survive in space/water/lava/middle of a sun, invulnerability, flight, super-strength.
Valkyrie
Concept: Iron age paragon
Personality: A little greedy?
Abilities: Flight, Invulnerability, super-strength.
Thanks
~~Yzz[/quote
Wow,Those Are Cool Characters,
What kind Of origins Would you like for those characters?